Sifnos island, in the Greek Cyclades, is a hidden gem in Greece. The gorgeous island is a favorite destination for Greeks, especially those living in Athens. We placed Sifnos front and center in our recent Greek Island hopping itinerary and the island of Sifnos was a highlight of the trip.
We've recommended Sifnos, Greece to friends and family alike. Mike's parents visited Sifnos and loved the island.
It seemed only right to put the Sifnos pages of our travel notebook on Robe Trotting so know how to best enjoy this offbeat island getaway. We're breaking down Sifnos in our favorite style, with a travel countdown.
We're going to show you:
5 Things to do in Sifnos
4 Foods and Drinks to Try in Sifnos
3 Sifnos Hotels and Areas to Stay on the Island
2 Perfect Instagram Spots on Sifnos Island
1 Insider Tip About Sifnos
Some links may be affiliate links. This means we may get paid if you buy something or take an action after clicking certain links at no extra cost to you. 
The volcanic island of Sifnos lies in the southwest Cyclades island group. It's often overlooked for neighboring Milos or Serifos, but that's part of the draw to visiting this less-touristic beauty of a destination.
The island is home to about 2,600 residents and doesn't swell to an overwhelming amount of people during travel season. Sifnos island is about 74 km² and easily reached with a well-established port.
How To Get To Sifnos Island
The best and most common way to reach Sifnos is by ferry from Athens or a nearby island. All ferries drop passengers at the port in Kamares. 
CHECK FLIGHTS TO ATHENS AND OTHER GREEK AIRPORTS VIA SKYSCANNER
ATHENS TO SIFNOS FERRY:
Departs from Athens five times per day via Aegean Speed Lines
Travel time: 3 hours on high speed ferry 
Book your ATHENS TO SIFNOS ferry tickets through BookAway
There is no airport on Sifnos island, but you can fly from Athens to the small airport on nearby Milos. That brings you much closer by ferry and you may even spend a night or two on Milos.
MILOS TO SIFNOS FERRY:
Departs five times per day via Aegean Speed Lines
Travel time: 1 hour
Book your ATHENS TO SIFNOS ferry tickets through Ferry Hopper
How To Get Around Sifnos Island
SIFNOS PUBLIC TRANSPORTATION
One of the best things about Sifnos is that there's a bus with routes around the entire island. That's great for low-impact and sustainable tourism.
SCOOTER AND ATV RENTAL
To reach some parts of the island you may want to rent a scooter or an ATV. This is easily booked through one of the many stands as you arrive in Kamares, the ferry port. If you pay more than 25€ per day for your you should shop around to another stand.
SIFNOS CAR RENTAL
Renting a car is an easy option on Sifnos. Our group of five rented a car in Kamares and it helped us get around to every beach. Parking can be tricky in some areas of Sifnos island, but the rental part is easy.
Five Things To Do In Sifnos
One of the best things about Sifnos island is the chance to relax. It's not as touristic as many Greek islands, but there's ample local companies offering excursions and plenty of self-guided activities to enjoy. Here are the five best things to do in Sifnos.
One of the best parts of island hopping in Greece is spending time on the beach. Sifnos is fringed with protected coves and beautiful golden beaches. Because the island of Sifnos has a lower volume of tourists, the beaches aren't overrun and it's easy to find a sun chair and relax.
One of our favorite Sifnos beaches is Vathy Beach on the southeastern coast of the island. It's a long beach along a coastal bay with a small village including waterfront tavernas and eateries. You could easily spend all day at Vathy Beach.
Platis Gialos is arguably the most popular beach on Sifnos island, and it's for good reason. The turquoise waters glisten in the sun with a stunning mountainous backdrop. Along the coast there are marinas and it's a popular beach for water sports. Just off the beach you'll find boutiques and cafes to unwind after washing the sand off your toes.
Faros is a beautiful beach in a traditional fishing village of Sifnos. It's incredible authentic and the beach experience in Faros is something you won't find on more commercial Greek islands. The picturesque waterfront is dotted with seafood restaurants and if you want a fresh fish meal it's the beach to spend the afternoon. 
There are beaches galore on Sifnos, so you won't be let down by the selection of destinations to rent a sun chair. Other stops for your sun worship are Apokofto and Cheronissos. Since we stayed in Kamares we spent a lot of time on Kamares Beach as well. It's lined with sun chairs that are serviced by beach bars with drinks and food.
Hiking on Greek islands may not seem like the natural activity, but Sifnos Trails is a must-do activity on the island. The gorgeous island is laced with a network of 19 trails stretching over 100 km and the hilly paths offer sweeping views of Sifnos. Bring your hiking boots and sun screen lotion and enjoy the outdoors of Sifnos island.
3. Visit One of the Monasteries on Sifnos Island
Greece is known for gorgeous whitewashed buildings but the ones that stand out the most are the monasteries on Sifnos island. There are many to select from, but you must visit a monastery or church while you're on Sifnos. They're stunning, full of art and often built on rock formations with incredible views. 
Whether you're religious or not, the unique architecture of these Greek holy buildings is phenomenal. Many of them are accessible only by a scenic hike. We visited Chrisopigi Monastery while we were on Sifnos. It's easily the most famous and most photographed. You can make the trip while you visit nearby Apokofto Beach which.
4. Enjoy Kastro Medieval Village
The medieval village of Kastro in Sifnos has been occupied living space since prehistoric times. It's a fascinating and picturesque village to visit while on the island. The ancient capital of Sifnos maintains a feeling of grandeur and nobility and you have to check it out.
To reach the village from Apollonia you hike down a 3.5 km cobblestone decline. Once you begin the descent you will be blown away by the view. The sloping road offers you so many photo opportunities and the panorama from Kastro itself will be worth the climb back up to Apollonia.
Sifnos island is home to several archaeological sites. It may not be ancient Akrotiri on Santorini or the more famous archeological finds elsewhere in Greece, but you should check out the ancient ruins on Sifnos. 
One. of the most impressive sites is Agios Andreas. It was an ancient Mycenaean city built on a hill. The most impressive ruins recovered include an acropolis or citadel. It's ringed with eight towers, walls and gates dating back to the 8th century BCE. 
Four Things To Eat Or Drink On Sifnos Island
There's a lot of obvious food and drink when it comes to Greece. We learned that the ingredients and style of preparation is different on every Greek island and even in different cities on the mainland. Here are our recommendations for what to eat and drink in Sifnos.
I cant even begin to describe the love we developed for saganaki while we were in Greece. Maybe it's because our first island was Sifnos, but we just loved the saganaki there the most. It's something we devoured for almost every lunch and dinner we had on Sifnos.
Saganaki is a dish of pan-friend cheese. It sounds so simple but the oil, flash-frying method and a squeeze of lemon once it's removed from the heat add to the complexity. When you're in Greece, and especially Sifnos, order a saganaki and think of us!
It may be simple, but you have to try a Greek salad when in Greece. In Greece they're a bit different than if you order one in the States or elsewhere in the world – there's no lettuce. You won't mind the lack of lettuce when you taste how delicious the tomatoes are in Sifnos.
So despite what you see in movies, Greeks don't smash plates when they drink. However, they do drink ouzo on almost all occasions.
Full disclosure, I was not a fan of ouzo whether it was iced or warm or mildly chilled. It's probably an acquired taste like a lot of national liquors. Still, when in Greece you just have to try an ouzo and on Sifnos island it's often served with some fresh figs.
The Greeks know how to dish out mouth-watering sweets and one of the best desserts is baklava. You can try it any restaurant on Sifnos, but if you're looking for a ringer head to Gerontopoulos Sweet Shop in Apollonia. There you'll find the best baklava on the island and you'll probably come back the next night for more.
Three Places to Stay on Sifnos Island
The island of Sifnos is dotted with authentic villages and tiny towns that all have wonderful accommodations. While you can't go wrong anywhere, we would suggest staying in either Kamares or Apollonia. From these two towns you're close to every beach point, attractions and activity and you can easily navigate Sifnos. A third option is to stay near one of the popular beaches to cut down on your time getting your toes in the sand. 
Some important tips for booking a hotel in Sifnos:
Make sure your hotel has Air Conditioning – it may shock you that some hotels in Greece would not have AC but they definitely exist. DOn't find out the hard way!
Not all hotel staff will speak Engish or be fluent. This is especially true on Sifnos island which caters to a more local clientele. 
If you rent a car, consider parking when you make your reservation.
Here are three recommended Sifnos hotels in those ideal locations:
1. Hotel Delfini, Kamares: Midrange Cycladic Style Hotel
Hotel Delfini is a lovely property steps from the blue flag beach of Kamares. It's conveniently located near the sea ferry which makes for a smooth arrival and departure. Each minimalist room has a private balcony.  Hotel Delfini has air conditioning and guests love the outdoor pool and breakfast buffet.
Learn more and review prices and availability with your online booking platform of choice:
2. Verina Terra, Platis Gialos: 4 Star Beach Resort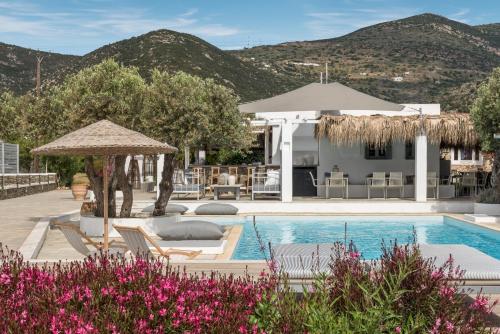 Verina Terra is a perfect place from which to explore Sifnos island. The location puts you steps from the island's most popular beach, Platis Gialos, with enchanting views of the mountains and sea. It has a pool, spa and free breakfast in the on-site restaurant. It's considered great for families and Verina Terra is in an unbeatable area of Sifnos.
Learn more and review prices and availability with your online booking platform of choice:
3. Kampos Home, Apollonia: 4 Star Guest Houses
Kampos House is a gorgeous property in the hills of Apollonia. It puts you in the middle of the largest and most vibrant city in Sifnos. The hotel has a shuttle from the ferry making arrival and departure a breeze. It's also an easy place to navigate the island from because all roads lead to and from Apollonia (at least on Sifnos island). There is no pool but guests have access to the hot tub which has great views. The rooms also have air conditioning and are ideal for families.
Learn more and review prices and availability with your online booking platform of choice:
Two Instagram Spots on Sifnos Island
Are you really Greek island hopping if you don't show it off on instagram? Here are two places where you can capture the best instagram photos on Sifnos.
1. Church of The Seven Martyrs
The most photographed building on Sifnos is easily the Church of the Seven Martyrs. It's simply gorgrous with a breathtaking view around on every side. The tiny chapel is build into a rock formation on a peninsula jutting into the Aegean.
The key to getting a killer instagram photo is to capture evening sun on your walk down the stone path to the church.
2. The Rooftop of Argo Bar
One place you should stop for a cocktail in Apollonia is Argo Bar. Not only do they serve up delicious cocktail, they have some of the best rooftop views in all of Sifnos. You'll enjoy the laidback vibe and they often have live music.
Sifnos is an island with just enough nightlife. It's far from a party island and Argo Bar threads the needle perfectly with just the right balance of cutting loose. Best of all, the views of the Aegean are truly remarkable and will look great in your instagram feed.
One Insider Tip For Visiting Sifnos
1. You Can't Leave Without Some Pottery
For centuries the artisans of Sifnos have been known for their pottery skills. It's the perfect souvenir or travel gift to bring home. We spent quite a while perusing the shops in Kamares on our final day in Sifnos after hearing how skilled the locals were in producing pottery. 
We brought home several clay items from Sifnos which made great Christmas gifts for our family. We also did some shopping for ourselves and bought some Sifnos votive candle holders. In Greece you find a lot of the same items sold in every shop, so a handmade gift or keepsake is the perfect thing to bring back with you.
Now You Know Everything You Need To Know About Sifnos
Hopefully this has given you a good overview of what to expect on Sifnos island. It's a truly beautiful place to visit in Greece. The vibe is laid back and ideal for travelers of all age. It's an often overlooked and underrated island in Greece, but use that to your advantage. It's often an island in Greece with no crowds but it still boasts plenty of things to do and some nightlife and restaurants.
We hope you love Sifnos as much as we do. Let us know what you think of the island in the comments below and let us know if you have any questions before you go!
Get New Posts and More Straight to Your Inbox With the Robe Trotting Newsletter