New Orleans is without rival our favorite city to visit in the United States. The city is a melting pot of culture where French, American, African and Caribbean influences delight the senses. Out of these cultural traditions come delicious foods, iconic architecture and a vibrant music scene that you will only find in NOLA. The nightlife is known world-wide because the festivities keep going round-the-clock and the natural landscape in and around the city provide even more things to do and see in New Orleans. All of these factors make New Orleans the best gay destination in America. If you have never experienced gay New Orleans then you need to plan a trip now.
We're going to walk you through everything you need to know for the ultimate LGBTQ+ vacation to New Orleans, Louisiana. This guide should help you plan your trip and know where to go out, where to stay and what to do in gay New Orleans.
In this LGBTQ Travel Guide we will break down:
LGBTQ Safety in New Orleans
The Gay Area of NOLA
Gay Bars, Clubs and Saunas in New Orleans
Gay Restaurants in New Orleans
LGBTQ Events and When to Visit NOLA
Things To Do in New Orleans
Trips For Planning Your Gay New Orleans Trip
Use the table below to navigate sections and bookmark this page to pull up the Google map to navigate New Orleans during your trip!
Some links may be affiliate links. This means we may get paid if you buy something or take an action after clicking certain links at no extra cost to you. 
Is New Orleans LGBTQ Friendly?
While America offers marriage equality and protection from discrimination to LGBTQ+ people, there are certainly pockets of intolerance around the country. This is particularly true in the south, but New Orleans is an exception.
The Crescent city is tolerant, progressive and has a vibrant gay community. New Orleans is full of queer spaces and gay-owned businesses. You can, and should, explore NOLA as an out and open LGBTQ+ traveler. The city is safe and extremely friendly towards all people.
The Gay Area of New Orleans
Queer spaces and gay bars are all over the city of New Orleans, but the biggest concentration is in the French Quarter. It's the epicenter of New Orleans nightlife and where you'll find the famous Bourbon Street. Most of the gay bars are in the north section of the French Quarter along the Lavender Line, a strip of St. Ann Street that bisects Bourbon Street.
Where To Stay in New Orleans
As a popular tourist destination, there are many options for hotels in New Orleans. We always recommend staying in the area where you'll end your day. For us, that means near the nightlife area – so in the French Quarter.
We also suggest checking out the Marigny District which is adjacent to the French Quarter. It's a hip, offbeat area that's grown in popularity with tourists and locals in recent years. It's full of Cajun bistros, jazz clubs, and nightlife – especially on Frenchman Street.
The Marigny and the northern part of the French Quarter are perfect for finding a cute Airbnb to stay in while in New Orleans.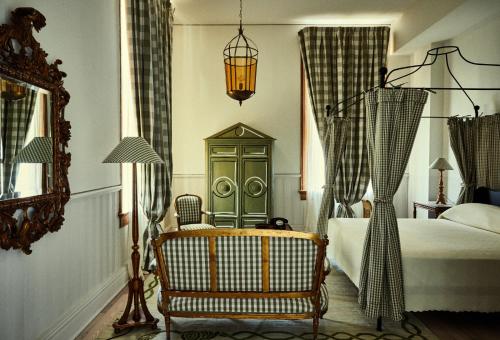 Hotel Peter and Paul
The Hotel Peter and Paul is located in the Marigny. It's about a 10 minute walk to the gay bars of the French Quarter. We stayed there on our last visit to New Orleans and can't recommend it enough. The hotel has been converted from a church and school built in 1860. It's chic and elegant with lovely staff.
Gay Cafes and Restaurants in New Orleans
New Orleans is a food city, and full of wonderful restaurants, cafes and food stands. Here are a few of our favorites to weave into your New Orleans itinerary. Some are gay-owned or managed but all are gay-friendly and close to the Lavender Line.
800 Decatur St, New Orleans
Just try to find a New Orleans travel guide that doesn't point you to Cafe du Monde for your morning coffee and fresh baked beignets. Head to the outdoor seated cafe at the corner of Jackson Square and thank us later!
2001 Burgundy St, New Orleans
You're not in Kansas anymore Dorothy, but have the perfect gay brunch at the Ruby Slipper Cafe. You'll have a smile on your face the moment you walk in the door. The cocktails are delightful and the southern brunch fare is delicious.
838 Esplanade Ave, New Orleans
This burger slinging dive bar is the perfect place to stop for a greasy dinner before heading out for the night. We stumbled into it the last time we were in town and couldn't believe how great it was. Some nights there's a line down the block to get a table but we lucked out.
219 Dauphine St, New Orleans

A PoBoy is the signature Louisiana sandwich and you can't get around trying one in NOLA. The best place to experience a PoBoy in the French Quarter is Killer PoBoys. They have gourmet options like pork belly or you can go with a classic fried shrimp PoBoy.
535 Franklin Ave, New Orleans
For an upscale meal out, go to Cru and treat yourself. The cuisine is light, healthy and delicious and they have weekend events with drag and burlesque performances over dinner. Definitely try the lobster ceviche and let us know what you think.
New Orleans Gay Bars and Clubs in The French Quarter
New Orleans gay nightlife ranges from campy to cruisey with dance clubs and beer-and-shot type dive bars. The nightlife is as diverse as the community that patronizes it and you'll find that there's really a place for everyone in New Orleans.
801 Bourbon St, New Orleans

We LOVE The Bourbon Pub and you will too. It's the largest nightclub and gay bar in New Orleans at the corner of St. Ann and Bourbon Streets. It's the epicenter of gay New Orleans with 2 floors, a wrap-around balcony, great dance music and go-go boys on the weekends.
940 St. Louis St, New Orleans
The Corner Pocket is a great time for drinks and to enjoy the boys dancing on the bar. It's a great bar for nightly entertainment from BINGO to sporting events and dancing. The Corner Pocket is a French Quarter staple.
800 Bourbon St, New Orleans

The Oz is one of the main attractions when it comes to New Orleans gay bars. They have a fun and campy vibe with a calendar full of entertainment. Head there any night for a good time including karaoke, Quizzo and Ru Paul's Drag Race watch parties and in-house drag shows.
734 Bourbon St, New Orleans

Great music, signature cocktails and the feelings of an upscale smoke-free lounge right on Bourbon Street. Napoleon's Itch is a fun spot located in the Bourbon Orleans Hotel – one of our recommended lodging options!
901 Bourbon St, New Orleans

If you want to visit America's oldest gay bar – head to Cafe Lafitte's In Exile. The establishment opened in 1933 down the street from it's current location in the building that is another popular bar, Lafitte's Blacksmith Shop. Today the bar is lively, perfect for happy hour or socializing all night on two floors with a wraparound balcony.
740 Burgundy St, New Orleans
Popular with the bear crowd, Rawhide is a Levi's and leather bar with a heavy cruising vibe and a dim lighting. There's at least one of these types of bars in the best gay cities and New Orleans is no exception. Definitely check it out for a cold beer and a some seedy fun.
834 N Rampart St, New Orleans
GrandPre's is a chill bar with affordable drinks and plenty of seating. It's located across from Armstrong Park with nightly entertainment. Check them out for live shows, drag, karaoke and great music.
542 N Rampart St, New Orleans
The Page is a great place to stop for late-night cocktails or happy hour drinks. They play great music and super friendly staff. We discovered it by joining a bar crawl our last time in NOLA. It's a little more of a local hangout so definitely stop there to mingle with the cute NOLA boys.
740 Dauphine St, New Orleans
Good Friends Bar is what it sounds like – a chill, laid-back bar with weekly events and friendly patrons. Another popular bar with karaoke and good music. The interior is Victorian-style decor so it feel cozy.
439 Dauphine St, New Orleans
Crossing is a fun bar in a 19th century building. Inside they have video screens and a steampunk-themed decor. Crossing serves bar food and reasonably-priced cocktails with a long beer list. We like to start our night there and always find chatty locals for good conversations.
1239 Royal St, New Orleans
Golden Lantern has been a gay bar since 1964 and the place feels iconic as soon as you enter. They host special events and drag shows regularly. When we were there last they had live music on a Sunday Funday and we had a great time!
700 Burgundy St, New Orleans
700 Club is a hip French Quarter watering hole that also serves food and has pool tables. Stop there for a bite to eat on your way out, but you may end up spending all night.
New Orleans Gay Bars and Clubs Elsewhere in the City
While most New Orleans gay bars are located in the French Quarter, there are a few around town that you can find outside the normal gay section.
706 Franklin St, New Orleans
Cutter's is a recently renovated neighborhood bar in the Marigny with a local vibe and friendly staff. They serve delicious food and cocktails, so if you stay nearby it's a great place for dinner before heading out.
941 Elysian Fields Ave, New Orleans
Located in the Marigny, Phoenix Bar is a New Orleans gay bar popular with the leather crowd. They have cheap drinks and pool tables, so what;s not to love? They also offer BINGO nights and other events and special nights.
LGBT Events in NOLA and When to Visit Gay New Orleans
If you're looking for a true gay travel event – there are times where New Orleans is at it's peak gayness! You've probably heard of these events, but here's a bit of what to expect when NOLA rolls out the welcome mat and southern hospitality for LGBT travelers from all over the world.
Where better to experience Pride than a town that knows how to party 24/7! New Orleans Pride is typically in early June, and has grown significantly in recent years. The parade itself runs through the best parts of the city, including the Marigny and the French Quarter. There are block parties on Bourbon Street and special events in many bars (gay and straight), so it is a great time to visit.
Only a party town like New Orleans can decide that Pride isn't the biggest gay event of the year. Here, the weekend to visit is Southern Decadence, typically held on Labor Day weekend in early September. Southern Decadence is a home-grown event. It grew from a 1972 house party into a week-long party and a parade that rivals Mardi Gras. And with a name like Southern Decadence, you know the theme is party, party, party. There is a 24/7 street party in the French Quarter, circuit parties most nights, and tons of concerts and shows.   
Mardi Gras is the event most people think of with New Orleans. Mardi Gras is a multi-week event leading up to Fat Tuesday, the last day before Lent. Every day there is at least one parade, each with different themes. Mardi Gras is so popular the city population nearly doubles during the week before Fat Tuesday. Tourists come to see the elaborate floats in the parade and the non-stop parties in the French Quarter. The entire period is a bacchanalian delight, and a quintessential New Orleans experience.
Our Favorite Things To Do in New Orleans
One thing you can be certain of in New Orleans is that you will be entertained. You may catch a wedding party with brass band marching down Bourbon Street or even bump into Solange Knowles (both things that I've experienced).
While the best travel experiences can't be planned in advance, here are our recommendations for the best things to do in New Orleans.
Take a Drag Queen Tour of the French Quarter
Join local drag queen, Quinn on a fascinating adventure through history. It touches on gender, sexuality, performance, and nightlife through the more than 300-year history of New Orleans.
This tour will cover everything from the Storyville Madams to New Orleans drag queens in the 1950s. You will hear the often untold stories of the ways women and queer people built incredible lives in New Orleans in spite of repression and adversities.
Eat and Drink Your Way Through New Orleans
Two things New Orleans is well known for is the city's food and drink scene. Why not experience them both on a four hour organized tour. We were skeptical of doing a half-day tour that included nothing more than cocktails and food – and then we did this tour.
The incredible food and drink history of the city was so cool to learn about. It's a perfect way to get to know the city and realize all the influences that shape its cuisine and drink scene.
Discover The Garden District
It only took me three trips to New Orleans for someone to give me the following advice: SEE THE GARDEN DISTRICT.
While I love the French Quarter and the gay scene if fantastic – the Garden District of New Orleans is simply enchanting. This two and a half hour tour includes stops at the city's oldest cemetery and a PoBoy shop BUT the incredibly preserved mansions are the main event.
Cruise The Mississippi River
There are plenty of river cruises on steam boats that take you back to another era. This one features jazz music and a live tour guide with a lunch buffet and bar. It's a perfect way to spend the afternoon from the river that shaped the city of New Orleans.
See The City With a Ghost Tour
Ghost tours are my guilty pleasure whenever we travel. Mike just tolerates them, but mostly because they're a great way to do a walking tour of any destinations. While they're not his favorite (and you know that from many of our city guides) Mike LOVED the 
It's a two-hour tour through the French Quarter with spooky history. It was a normal local and not a costumed actor carrying a lantern. We even talked our leader into stopping for shots multiple times. We also got him to show us the home of Madame LaLaurie (American Horror Story Coven fans here) and give us a lot of great tips.
Browse availability and rates of these great activities and others on GetYourGuide.
Instant ticketing confirmation, cancel up to 24 hours before your activity and get your tickets sent right to your mobile device!
Travel planning isn't easy – especially when it's gay travel planning! Here are some tips and practical information to kick off your research and lighten the load. We also give you convenient links for checking rates, dates and reviews as you book.
New Orleans is fantastic, and getting there is pretty easy from most places in America. Direct flights from abroad and many US cities may not be available. Still, discount airlines like Spirit, Southwest and Frontier make up for the inconvenience of a possible layover.
Search for discount flights into Louis Armstrong New Orleans International Airport with SkyScanner.
We used them every time we flew to NOLA and we use SkyScanner today for pretty much every flight we book – work and pleasure.
Getting into the city is best with an Uber or taxi. There is an airport shuttle but they often have longer wait times.
World Nomads is our ONLY source for travel insurance. Not to nag – but it's important to travel with insurance these days. Considering the small cost you pay, it's worth the peace of mind. Illness, flight cancellations and other emergencies come up all the time. If you get sick or having to change your travel plans it's crucial to be covered.
When we book excursions, tours, museums or attractions we always use GetYourGuide. The reasons why are simple: online booking, immediate confirmation, receiving tickets online through electronic vouchers and skipping the lines.
The tours above are all available through GYG, and you can search all their options in New Orleans HERE.
Lodging in Gay New Orleans
We gave you some great hotel options for a gay New Orleans trip. We love booking on Agoda or through hotels.com or booking.com
You can always search for a property on Airbnb or try out Misterbnb. It's the gay version of Airbnb and we have used it to travel and host guys visiting Copenhagen.
We like Misterbnb because we know we'll have a gay or gay-friendly host that can give us good advice on the city we're exploring.
In New Orleans and all of the United States, you are expected to tip. The tipping culture applies to a small tip for your hotel bellhop to at least 20% for service in a restaurant and a tip per drink for bartenders.
The Best Time of Year to Visit New Orleans
New Orleans is great all year round, but expects shorter days and cooler weather from November through March. You'll find larger crowds and hot, humid weather in the summer months. New Orleans hosts massive crowds for any festival with the peak being Mardi Gras, we don't recommend those times for your first visit to gay New Orleans.
We love to visit in the shoulder seasons. The southern United States is perfect in April and May or September and October.
Now You're Ready For Gay New Orleans
We hope you enjoyed our guide to New Orleans gay travel planning. NOLA is our favorite city in America (besides our native Philadelphia). It's actually the city we were in when we decided to move our lives to Copenhagen.
We have each celebrated birthdays there, traveled there for multiple group trips and couples weekend and it's just incredible. The city is exciting without being overwhelming and it's a gem of American history, unique cultural influences and a wonderful LGBTQ+ community.
Find out for yourself and let us know what you think of gay New Orleans.
Get New Posts and More Straight to Your Inbox With the Robe Trotting Newsletter